4 Point Suspension Centrifuges
Heavy Inertia plate and Anti vibration Mounts helps to isolate the vibration in a 4 point centrifuge.
TECHNICAL SPECIFICATION
Model
DSP-24
DSP-36
DSP-48
DSP-60
Basket Diameter mm
600
900
1,200
1,500
Depth mm
300
425
500
500
Max. Basket Revolution RPM
1,000
1,000
900
800
Filteration Area Mtrs sq.Area
0.56
1.2
1.88
2.35
Motors H.P.
3
7.5
15
20
Rated charge in Basket Ltrs
50
140
280
400
The main parts of the Centrifuge are Bearing and Shaft, Basket, Drive and Brake
BEARING AND SHAFT :
The Heavy duty bearing is choosed to withstand vibratory load and centrifugal forces duly fitted in bearing housing . The bearing housing is so designed and filled with grease ensuring long maintenancefree performance. The shaft is made up of suitable material and duly balanced independently without the basket for higher accuracy.
BASKET :
The basket is made up of adequate thickness so as to withstand the loads caused by the centrifugal forces developed by material in the basket. It is perforated and duly balanced. The basket bottom is made up of Mild Steel and lined at the innersurface by Rubber or SS as required.
DRIVE :
The drive consists of Motor mounted at the basket casing driven through V belt with provision of the tensioning the belts. The Centrifuges are fitted with Mechanical Clutch pulley at the motor shaft.
BRAKE :
The Centrifuge are fitted with external shoe brakes with brake liners. The brakes are heavy duty type designed to bring loaded basket to stop quickly.
MATERIAL OF CONSTRUCTION :
The Centrifuge Material of Construction is Carbon Steel, Stainless Steel and Rubber lined.
Note: We reserve the right to change size and design features.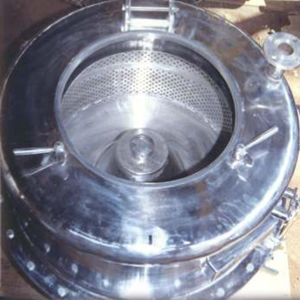 Centrifuge Shell with basket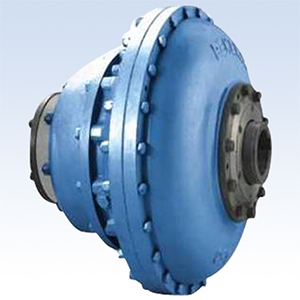 Fluid Coupling
Advantages :
1. Simple operation
2. Level of Vibrations much lower
3. Easily mounted on upper Floors
4. Machine can be easily relocated
5. Firm grouting not required
Drive :
The drive consists of Motor mounted on Inertia plate driven through V Belt totally closed .
Drives & Transmissions :
· Mechanical clutch pulley
· Variable frequency \Drive (Inverter)
· Fluid Coupling

TYPES
1.Manual Top discharge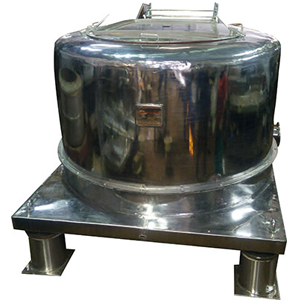 In a manual top discharge type centrifuge the solid material is scooped out manually from the top of the centrifuge.
2.Baglifting Top discharge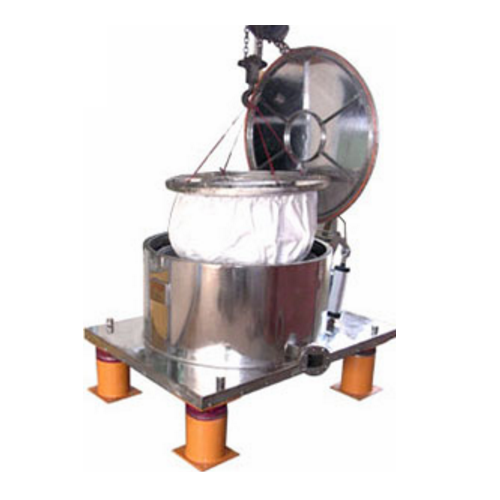 The Filter bag placed inside the basket retains the solid within the basket. This bag can be lifted using chain pulley manually or motorized mode. Thus the discharge of solid cake is instant and fast facilitating faster batch with less labour involved.
3.Manual Bottom discharge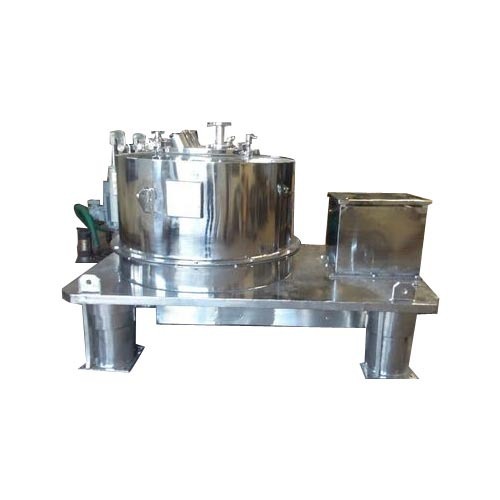 In a manual bottom discharge type centrifuge the solid material is scooped out by scrapper automatically and discharge the material from bottom.
Technical Specifications
| Model | DSP - 24 | DSP - 36 | DSP - 48 | DSP - 60 |
| --- | --- | --- | --- | --- |
| Inner Basket Thickness | 4mm | 5mm | 6mm | 8mm |
| Top Lid Thickness | 4mm | 5mm | 6mm | 8mm |
| Outer Body Thickness | 4mm | 5mm | 6mm | 8mm |
| Pulley | Mechanical clutch pulley | Mechanical clutch pulley | Fluid Pulley | Fluid Pulley |
| Total Weight | 800 kgs | 1,000 kgs | 3,800 kgs | 4,000 kgs |
In Carbon Steel Rubber Lined
| Model | MSRL - 24 | MSRL - 36 | MSRL - 48 | MSRL - 60 |
| --- | --- | --- | --- | --- |
| Inner Basket Thickness | M.S 5 mm | M.S 6 mm | M.S 8 mm | M.S 8 mm |
| Top Lid Thickness | M.S 5 mm | M.S 6 mm | M.S 8 mm | M.S 8 mm |
| Outer Body Thickness | M.S 5 mm | M.S 6 mm | M.S 8 mm | M.S 8 mm |
| Pulley | Mechanical clutch pulley | Mechanical clutch pulley | Fluid Pulley | Fluid Pulley |
| Total Weight | 900 kgs | 1,200 kgs | 4,000 kgs | 4,200 kgs |
Centrifuge Bearing Specifications
Single Row Series, Cylindrical Metric, Roller Bearing NF - 300 With Lips On Inner Ring & Single Flane Outer Ring
MODEL
NF - 300
ID
OD
Width
Dynamic-c
Static-cd
Speed Limit RPM grease
Position
DSP - 24
NF - 312
NF - 311
60
55
130
120
31
29
112
101
82.5
72.5
5,500
5900
Top
Bottom
DSP - 36
NF - 315
NF - 314
75
70
160
150
37
35
173
144
133
109
4,400
4,700
Top
Bottom
Single Row Series, Deep Grove Metric Radial 6300 Ball Bearing
DSP - 48
6320
6319
100
95
215
200
47
45
133
118
132
111
3,200
3,300
Top
Bottom
DSP - 60
6321
6320
105
100
225
215
49
47
141
133
144
132
3,000
3,200
Top
Bottom